The Lady Eagles Basketball plays here at home tonight (11/29) vs San Antonio Stacey. Due to the fact that San Antonio only has one team, this will be a varsity only game with tip off set to take place at 6:00 PM.

Today is the big day for Kelsey Kerr and our wonderful HS kitchen staff. They have been working hard to prepare a special Thanksgiving meal.Today's menu includes turkey or tamales, mashed potatoes w/ gravy, green bean casserole, dressing, cranberry sauce, dinner rolls, and fresh fruit. Be sure to give all the cafeteria a big "Thank You" as you go through the line. Speaking of Thanksgiving, JCISD will be closed November 21 - 25 for Thanksgiving break!

Lady Eagles Volleyball heads to the regional tournament to face Thrall tonight at 7 PM at Brenham High School! With a win they will play again tomorrow at 1 PM. We wish the Lady Eagles the best as they continue to take care of Unfinished Business. Go Lady Eagles.

The LBJHS Veterans Day program is this Thursday, 11/10/22 (although Veterans Day actually falls on Friday). What: Veterans Day Ceremony When: Thursday, November 10th at 10 AM Where: Eagle Field Community members are welcome to attend.

Eagles Football is headed to the playoffs!! Bi District Football Playoff Information: Johnson City Eagles vs. Thorndale Bulldogs Thursday 11/10/22 Hutto ISD Football Stadium 7:00 pm Kickoff Let's Go EAGLES!

The Lady Eagles Volleyball has advanced to the Regional Quarterfinals. The Lady Eagles will take on the Harper Lady Longhorns this Wednesday at 7 PM. The game will be played at Fredericksburg High School. Go Lady Eagles!

Johnson City LBJ High School Cross Country Home of the Runnin' Eagles JC XC CLOSES OUT 2022 SEASON and FINISHES AMONG TEXAS TOP 10 2A TEAMS. 16 Teams Qualified to run at the Texas State Championships: JC XC GIRLS TEAM Finished 9th overall. Sophomore Jackie Earley finished in 7th place and was awarded as a Top Ten Medalist.

Volleyball The Lady Eagles had a big night last night defeating Agua Dulce in 3 sets and becoming the Area Champions! Game 1: 25 - 6 Game 2: 25-15 Game 3: 25-10 Great job Lady Eagles! Next Wednesday (11/9), the Lady Eagles will take on the Harper Lady Longhorns. The game will be played at Fredericksburg High School and start at 7 PM.

Cross Country LBJ Cross Country is State Bound and the big race is today, November 4th, at Old Settler's Park in Round Rock, Texas. The Class 2A Girls 3200m race is scheduled to begin at 11:40 AM. Go LADY EAGLES! Let's Go 'Roon!

Last night the Lady Eagles Volleyball won their 8th straight Bi-District championship beating La Pryor in 3 sets. The girls struggled early to find momentum, but were able to get a demanding win of 25-13, 25-11 and 25-14 respectively. The Lady Eagles offense was led by Ivy Swafford with 23 kills followed by Avery Tumlinson with 7. Ava Craig had 41 assists to help clinch the win. The Lady Eagles head to the Area round later this week. Details will be sent out when finalized.

LBJ Girls' Cross Country is State Bound! Heading to the UIL STATE Cross Country Championships this Friday, 4 November and Saturday, 5 November, 2022 at Old Settler's Park in Round Rock, Texas. Go LADY EAGLES!


Football takes on Junction this week for a competition between the Eagles! JV plays tomorrow night at Junction. Varsity Football will play here at home on Friday night with kickoff set for 7:00 PM. Friday night is Parent Night as well! Parents have the opportunity to walk out on the field with their band member, cheerleader, and/or football player. Parents participating in the event should gather in front of the field house at about 6:05 and we will start the introductions at 6:15 PM.

Congratulations to all Eagle Cross Country runners who traveled to Corpus Christi this weekend and competed in the Region IV Championships yesterday. The boys finished 10th overall. The Lady Eagle Cross Country team finished 4th overall out of 25 teams and are heading to State! Way to Go! Top 25 finishers included: Antonio PEREZ - 25th Clare WHITE - 13th Lydia WHITE Top Ten- 8th Overall Jackie EARLEY Top Ten- 6th Overall

Next week is Red Ribbon Week! This year's Red Ribbon Week theme is "Celebrate Life. Live Drug-Free." The theme is a reminder that everyday Americans across the country make significant daily contributions to their communities by being the best they can be because they live Drug-Free! Red Ribbon Week Dress Up Days: Tuesday - Pledge to be DRUG FREE - Wear RED Wednesday - Drug free for the family - Soccer Mom/BBQ Dad Thursday - Stay drug free - "YOU CAN DO IT!" - Dress like Adam Sandler Friday - PINK OUT!!!

JCFFA wildlife team attended the Ducks Unlimited field day and practice contest at the Cook Canyon Ranch near Eastland.  Ryan was first place, Michael 3rd and Sean 4th. There were approximately 60 contestants.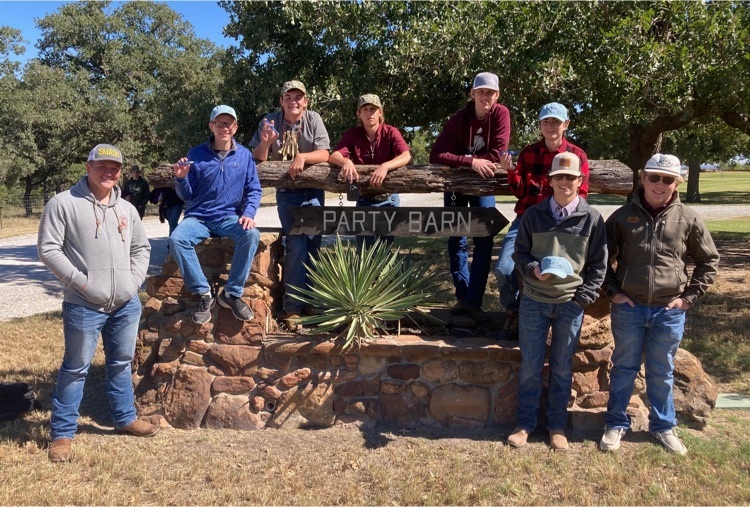 LBJ FFA teams competed in the Area VII FFA Plant ID and Range Evaluation CDE at the Wellspring Retreat in Fischer. Sean Huber and Michael Axtell placed 6th as a team at the Area VII FFA plant ID contest. Michael was the seventh High Point individual out of 38 contestants. KP Coble, Ryan Smith, Walter Johnson, and Clay Sultemeier placed 7th at the Area VII FFA range evaluation contest. Great job!

Monday, October 10th, is a parent teacher conference day. Students do not have school. Parents should contact your student's teacher/s if you would like to schedule a conference.

Please join us tonight (Wednesday, 10/5/22) at Eagle Field for the Community Pep Rally. The Johnson City Community Education Foundation will serve BBQ @ Eagle Field starting at 5:30 PM. The Community Pep Rally is scheduled to begin at 6:30. Athletes should plan to meet on the track near the field house to line up starting at 6:15.

The Harper Longhorns at the LBJ Eagles Football Game to be played on Friday, October 7, 2022, at 7:00 pm from Johnson City, TX is JR Alexander's Hill Country Nation Game of the Week aired LIVE on KAXA 103.7 FM, 107.7 FM and 1230 AM the Buck. This Game will also be AudioLIVE streamed at JAMBroadcasting.com. Hill Country Nation is happy to have the Eagles as our Game of the Week for your 2022 District 14-2A Division 1 Opener.